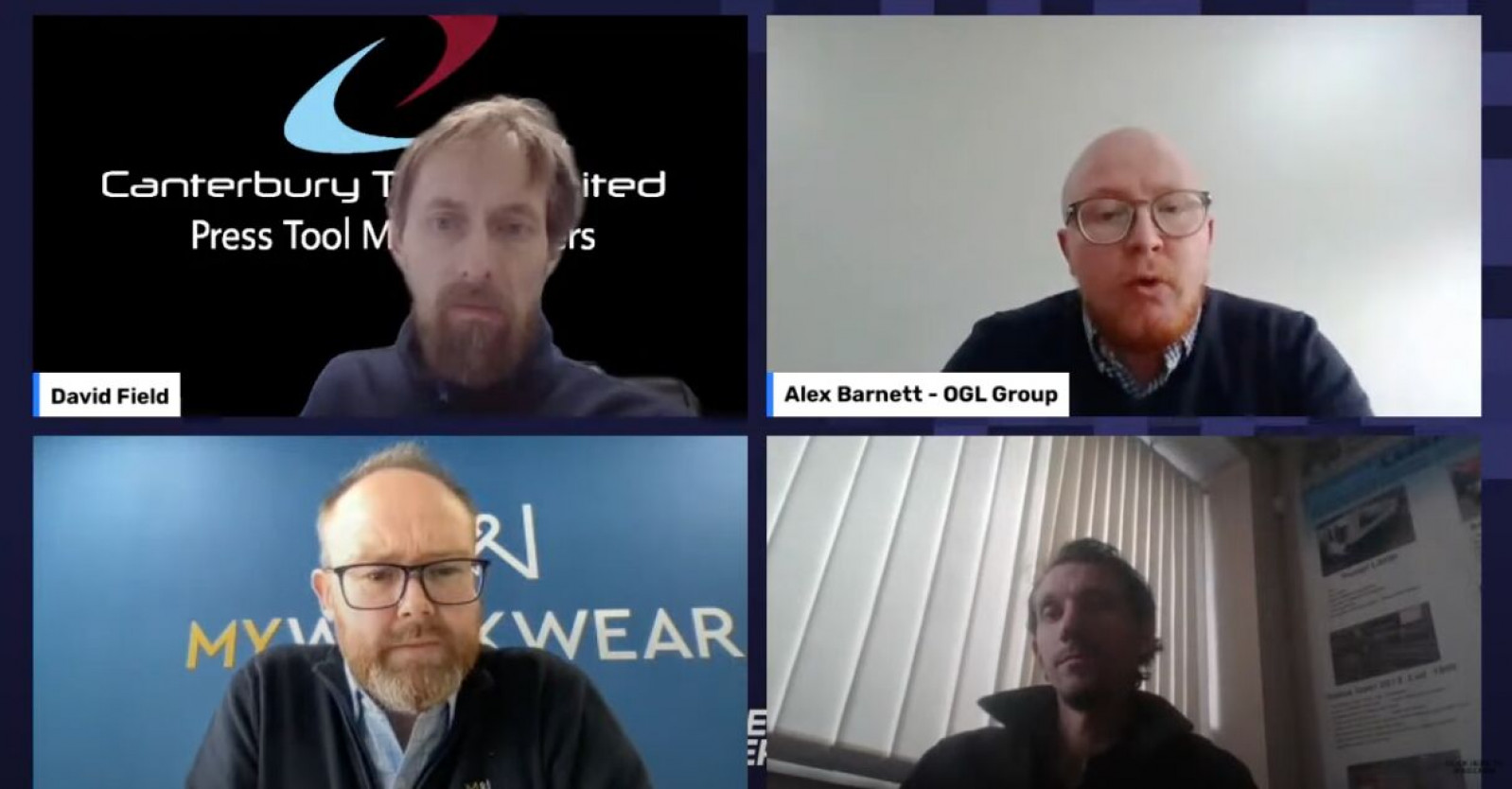 Having taken place on Wednesday 5th May, this month's instalment of The Editor's Pick saw guest editor Alex Barnett speak with 3 industry leaders from the Made in Group about their latest company news.
Alex has a wealth of experience through being the Alex Barnett Head of Business Development at OGL. OGL, Patrons of Made in the Midlands, are a premier provider of technology solutions and cyber security to manufacturers
As Guest Editor, Alex was able to select any recent news stories from the Made in Group membership, and decided to speak with James Worthington (Managing Director at MyWorkwear), Rupert Winter-Moore (Director at Zebra Worldwide Machinery) and David Field (Director at Cantebury Tools Limited).
This live event was kicked off by Alex, which is streamed across all Made in Group social channels once a month to the group's 30K+ followers, by introducing himself and the guest speakers.
The Importance of Providing a Bespoke, Flexible Service
The first speaker that Alex spoke to was Rupert of Zebra Worldwice Machinery, with Alex keen to find out more about Allgood plc having ramped up their production, after having purchased a hydraulic press machine from machinery experts Zebra Worldwide Machinery.
This investment from Allgood plc, which took place six years ago, has allowed the company to increase their volume and bend pull handles up to 2 metres in length thanks to the bespoke bed and tooling.
Alex spoke Rupert on the ways in which Zebra Machinery are able to provide a bespoke service to match up with the needs of their customers. Zebra works closely with their clients to ensure they are purchasing the correct machine fit for their needs. Therefore, after discussing challenges Allgood were facing with their old machine, Zebra produced a bespoke machine with a bed included and caged on one side only - allowing the engineers to access the press more easily.
15,000 Visors Produced, Following an Appeal on LinkedIn
Secondly, Alex spoke with David of Cantebury Tools Limited, keen to find out more about how the Walsall-based firm stepped in to help with the speed up the manufacture of an open source visor headband design.
Alex asked David how this came about, with the Director confirming that Cantebury Tools had first seen and responded to the appeal via LinkedIn, exampling the power of this social media platform for businesses.
Canterbury Tools have been working in partnership with APS and Bolyer Engineering, and have produced approximately 15,000 visors so far, at a rate of around 250 per hour. These are being supplied into hospitals, GP surgeries and care homes through Kirby Dowler and the WF Education Trust.These headbands are made from donated material, with the tooling and manufacturing completed at the companies' own cost. The partnership are now working to increase capacity and hope to produce 40,000 in total.
For Cantebury Tools, this marks a change from their usual work manufacturing parts for automotive companies, however, David emphasised that the the team are proud to do their part.
Recruitment Drives, Investment and £5 Million Targets
The final guest that Alex spoke to was James Worthington, Managing Director at MyWorkwear. Alex wanted to speak to James, after Myworkwear having recently opened a new production area following a £100k investment.
Speaking with Alex, James emphasised the importance of a huge recruitment drive that the company had been on in recent times, with this growth having also supported an increase in local jobs with employee numbers increasing by over 60% in the last year alone.
After a slight change in ownership during 2021, Myworkwear opened its new production area this week and the business is now setting its sights on £5 million in sales by 2025. With a £100k Capex investment, MyWorkwear has purchased three new embroidery machines and a direct-to-film print machine, along with other technology-related items, which will enable them to increase production substantially in 2022 and beyond. The new capacity will allow the business to secure new contracts from companies looking for personalised workwear and uniforms.