World-renowned design and manufacturing
On Wednesday 15th November 2023, Made in Yorkshire, Yorkshire's leading manufacturing network, ran a highly successful best practice networking event at Balmoral Tank's Thurnscoe site. Balmoral is a world-renowned design and manufacturing company that provides unique turnkey services spanning civils groundwork, tank design and manufacture, installation, commissioning and technical aftersales services.
The event brought together more than 50 industry professionals, experts, and key stakeholders to share knowledge, exchange ideas, and foster collaboration within the Yorkshire manufacturing sector and beyond. The event was also attended by members of Made in the Midlands, who were keen to meet with their Yorkshire equivalents to discuss potential new collaborations.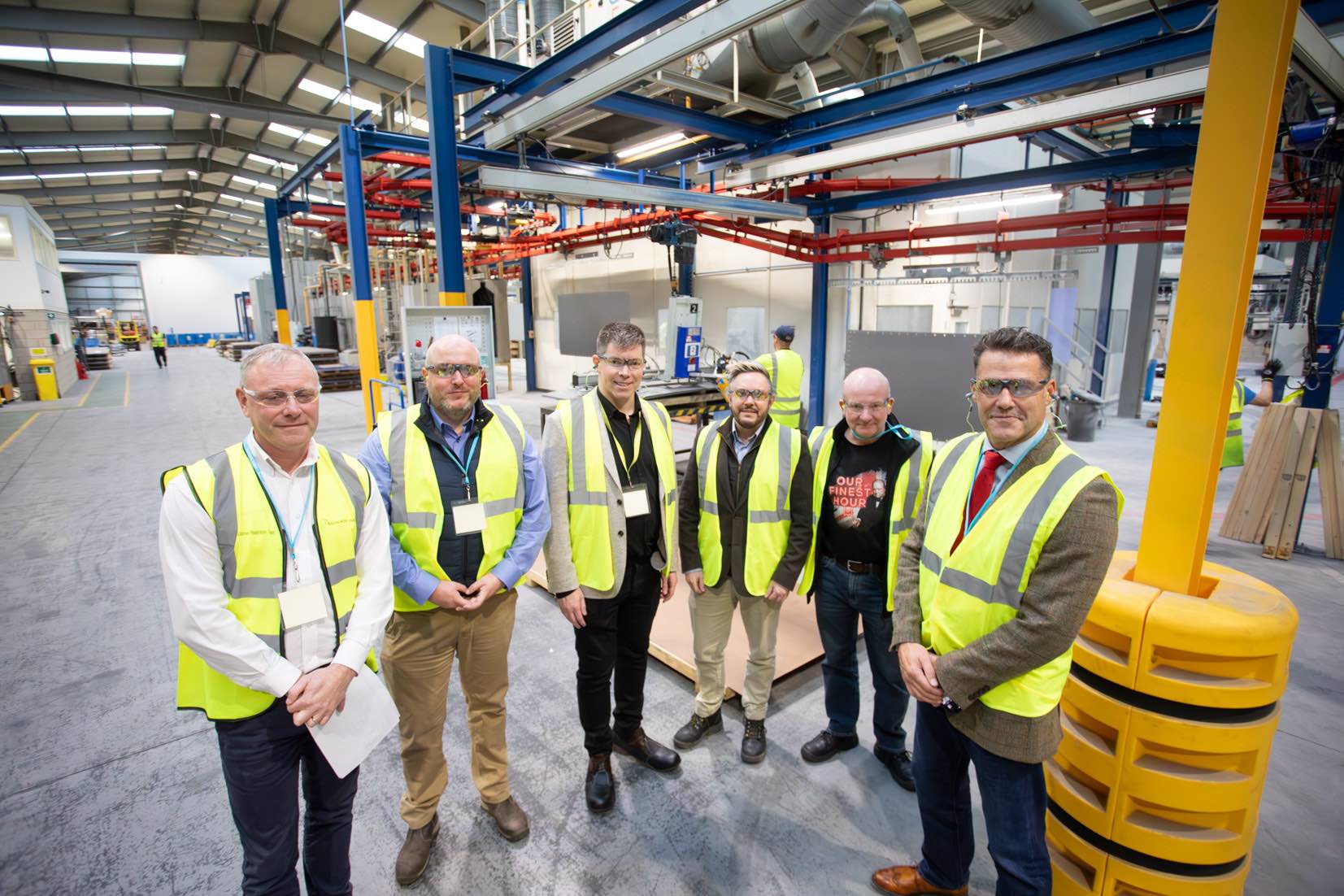 Promoting innovation, sustainability and growth
With a focus on promoting innovation, sustainability, and growth, the Made in Yorkshire best practice networking event aimed to provide a platform for manufacturers to learn from each other's successes, challenges, and best practices. The event opened with a networking breakfast, and was followed by a welcome from Made in Group's CEO, Jason Pitt who addressed the delegates:
"It gives me great pleasure to see so many familiar faces, but also new members, here today in South Yorkshire. Balmoral Tanks' facilities are second to none and I'm extremely grateful to Allan Joyce and his team for throwing open their doors to fellow Made in Group members so we can all learn more about their exceptional achievements."
Customer-focused and quality-assured
Allan Joyce, Balmoral Tanks' managing director, went on to deliver a keynote session, covering the business and the way it delivers the solutions it offers to clients both in the UK and around the globe. Allan discussed the culture at the company, its customer-focused and quality-assured values, as well as its numerous certifications, including BSI Kitemark for Service Standards (BS477 & BS ISO 10002), and Investors in People's coveted Silver accreditation. Allan said:
"We were one of the first companies to join Made in Yorkshire and it was initially about brand building. When it started out, I thought: Here's a great vehicle for us to raise the profile of Balmoral as a company. And it's worked.
"Our involvement with Made in Group has been very positive as a business because it's helped build the company's reputation, as well as knowledge and respect for what we do. Like most things you get involved in, you get out what you put in, so we do our best to support each and every event."
Collaboration and knowledge exchange
After Allan's session, the floor was given over to the Made in Yorkshire community. Its patrons that attended included Control Energy Costs, Partners PR and E3R. Members attending were drawn from a diverse range of manufacturers with specialisms including powder coating, electroplating, laser cutting and many more. There were also details shared about up-and-coming commercial opportunities.
Attendees emphasised the importance of collaboration and knowledge exchange in driving the region's manufacturing sector forward. The engaging discussion sparked lively debates and provided valuable insights for attendees.
Access-all-areas
Following the presentation section of the event, delegates were split into six groups and given an access-all-areas tour of the facilities, allowing them to witness firsthand the cutting-edge technologies and the processes employed, as well as giving them the opportunity to speak with team members and learn about all aspects of Balmoral's international operations.
The Made in Yorkshire best practice networking event at the Thurnscoe site served as a testament to the region's manufacturing prowess and the commitment of industry professionals to continuous improvement. By fostering collaboration, sharing best practices, and promoting innovation, the event played a crucial role in strengthening the Yorkshire manufacturing sector and positioning it for future success.
Attendee feedback
Attendees highlighted the achievements of Made in Yorkshire in promoting local manufacturing and fostering a supportive ecosystem for businesses to thrive.
The event showcased the incredible talent and innovation within the Yorkshire region and beyond, highlighting the importance of collaboration in achieving sustainable growth.
The event received overwhelmingly positive feedback from attendees who praised the organisation for curating a well-rounded programme that addressed the most pressing issues facing the manufacturing sector. The event provided a platform for attendees to gain valuable knowledge, establish new connections, and explore innovative solutions to common challenges.
Comments from members included:
"Great day and fantastic tour around a very impressive facility. Thank you for the hospitality, it is really appreciated" — Eric Tollet, Area Sales Engineer, Citizen Machinery UK.
"A very informative factory visit! Thank you for your hospitality." — Lisa Cooper, Business Development Engineer, Ficep UK
Lasting impact
As the event concluded, attendees left with a renewed sense of purpose and a wealth of knowledge to implement within their own organisations. The Made in Yorkshire best practice networking event undoubtedly left a lasting impact on the region's manufacturing community, inspiring attendees to embrace new ideas, adopt best practices, and drive the industry forward.
More events are being planned now so do follow our social media channels for further announcements. Please reach out to Sam Sleight, Made in Yorkshire's Membership Development Manager, if you'd like to explore the ways we can support you in growing your business — Contact us here www.madeinyorkshire.com/contact
Please note, we only have a few places remaining for our Annual Westminster visit and Christmas Celebration in London on 6th December. We've secured VIP access to Groucho Club, the exclusive private members club in Soho, for Made in Group members after the Westminster visit so we look forward to celebrating in style with you!